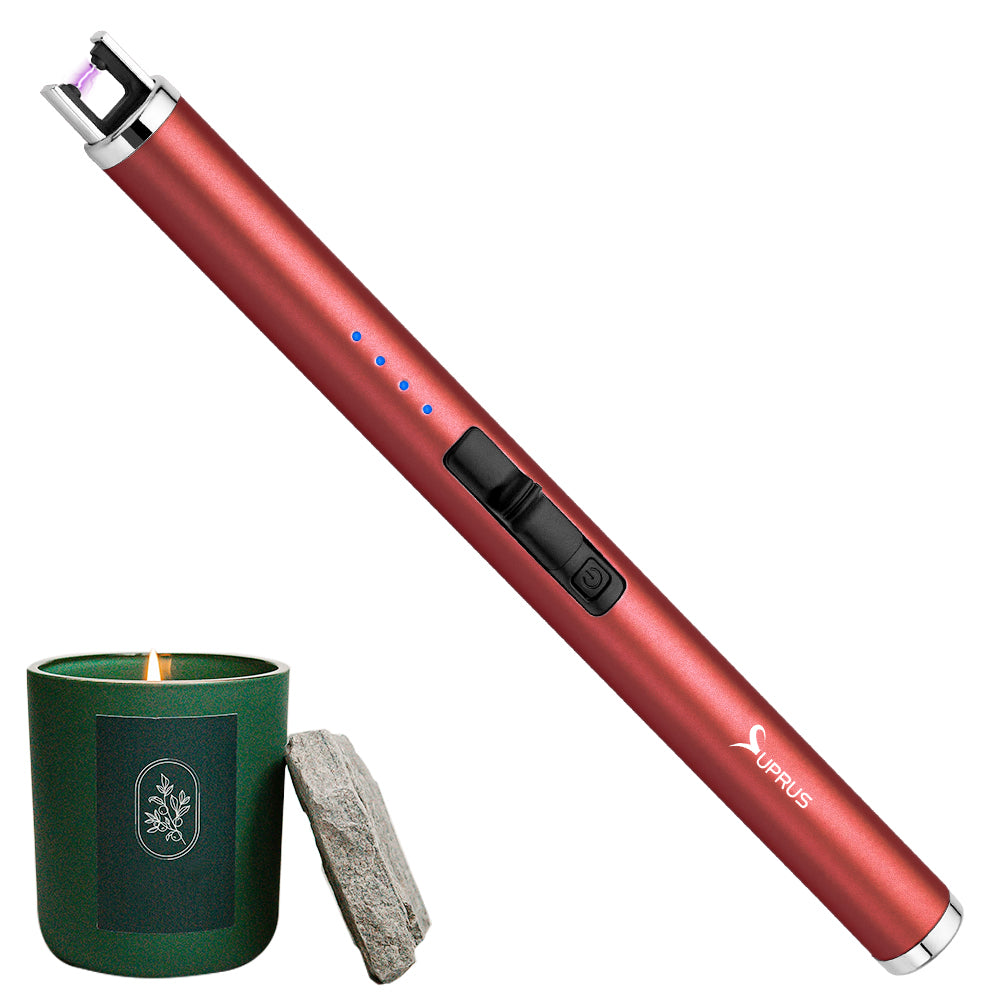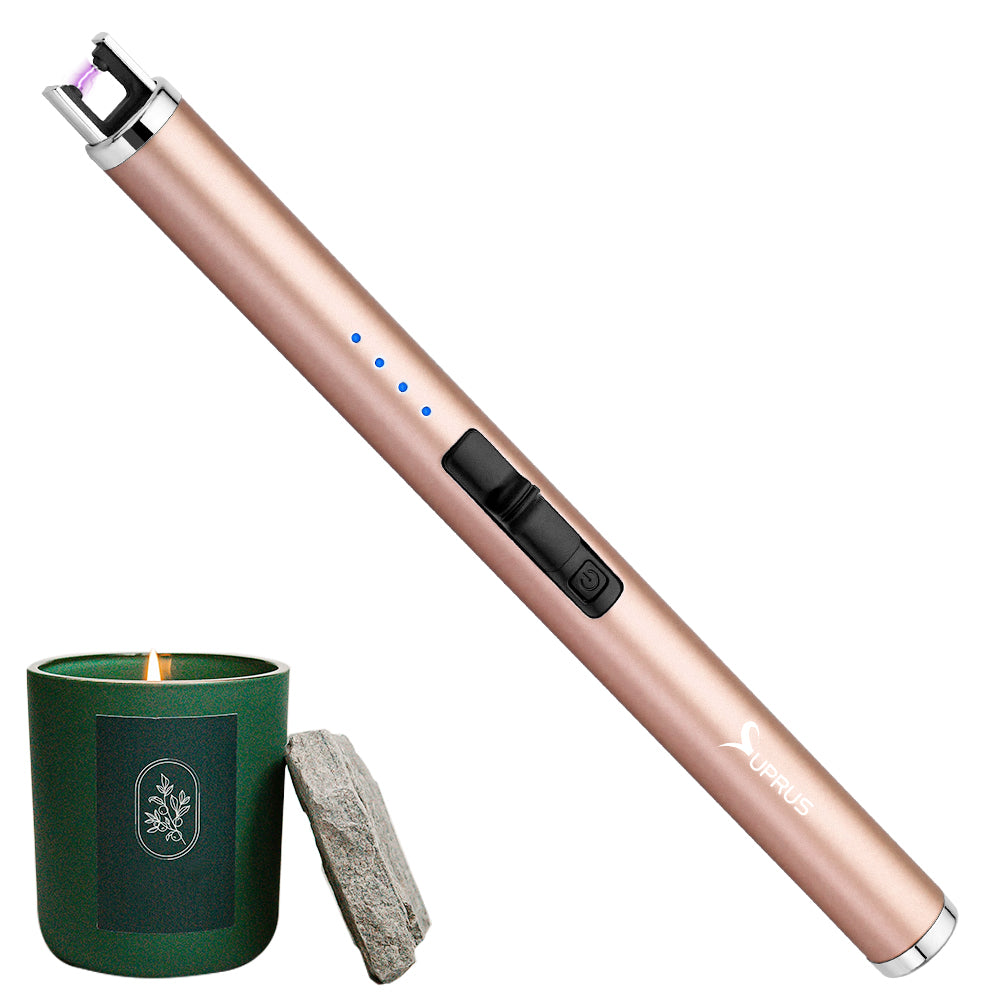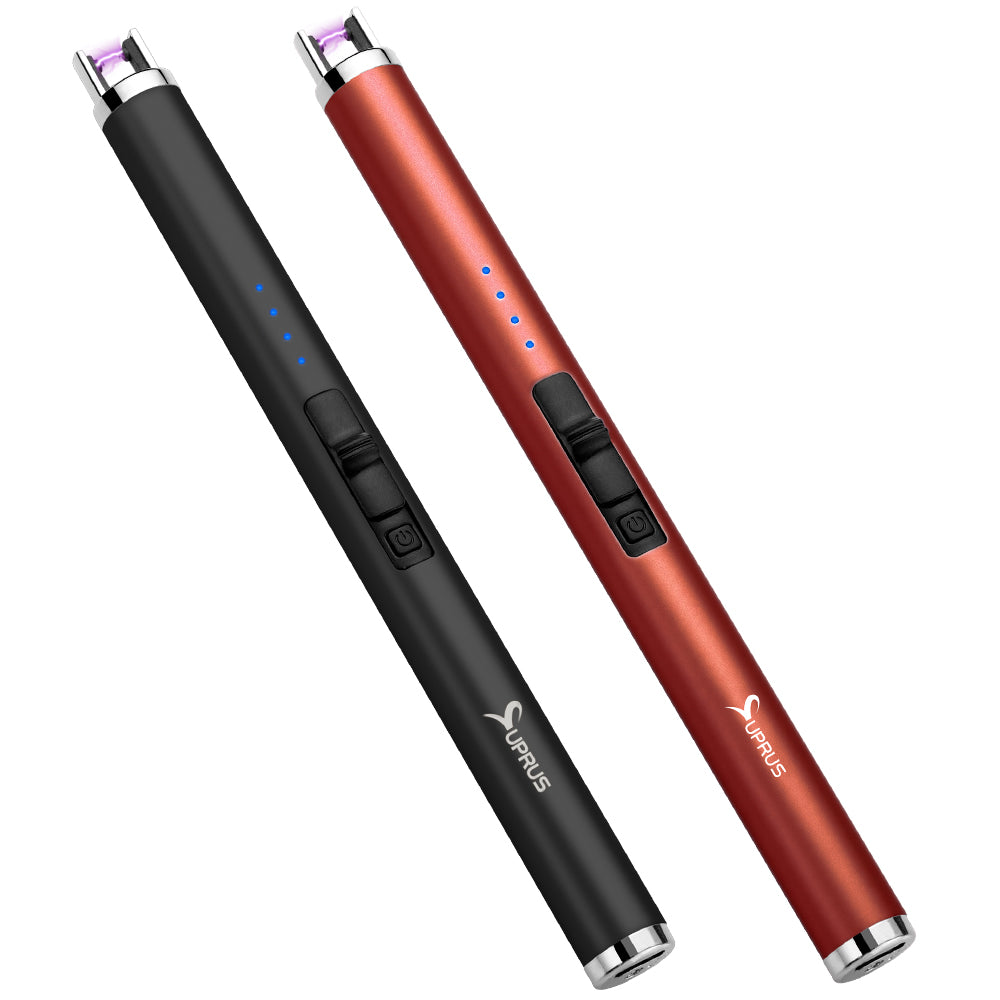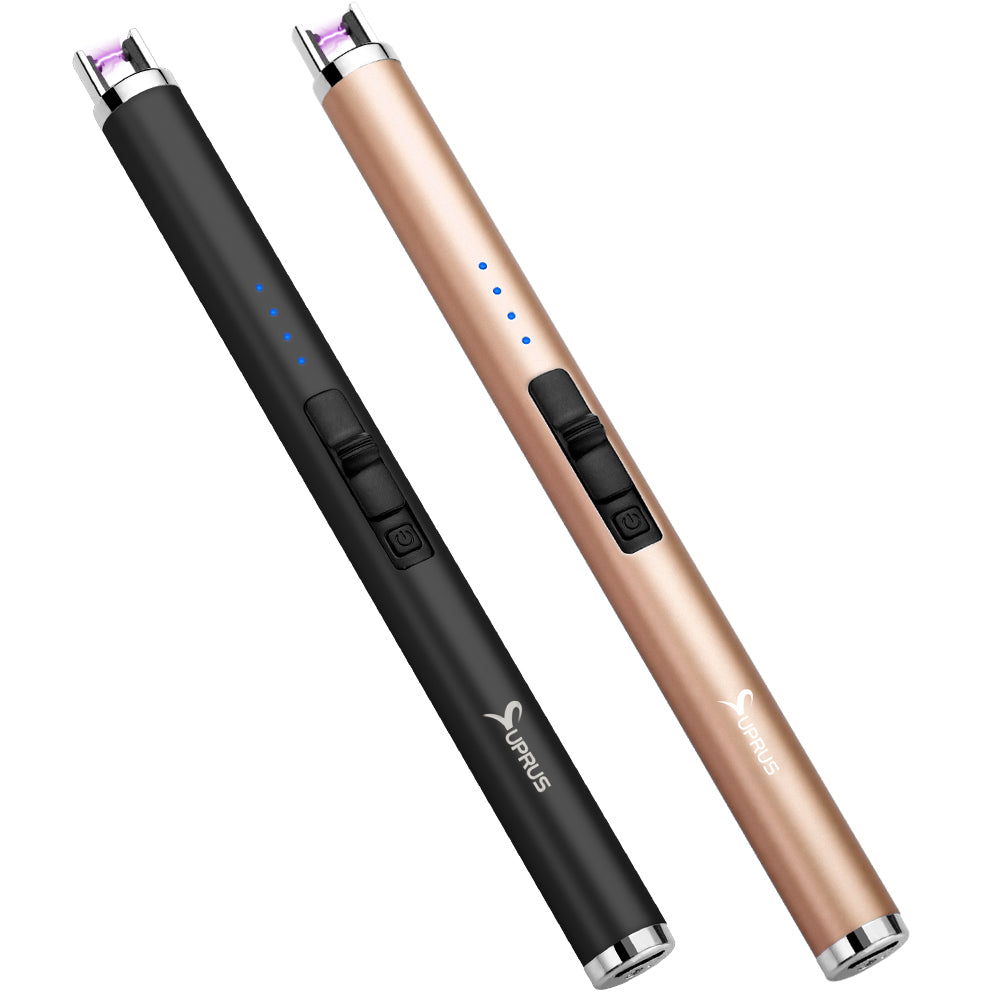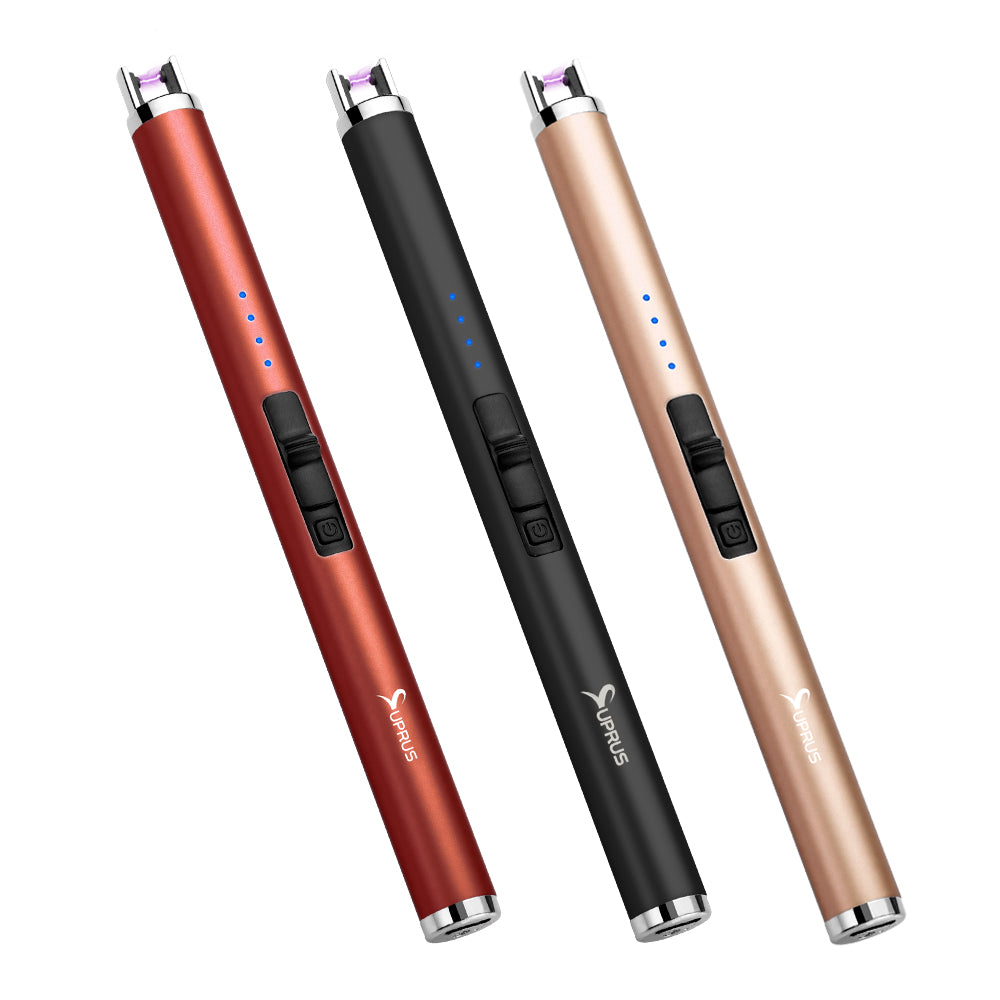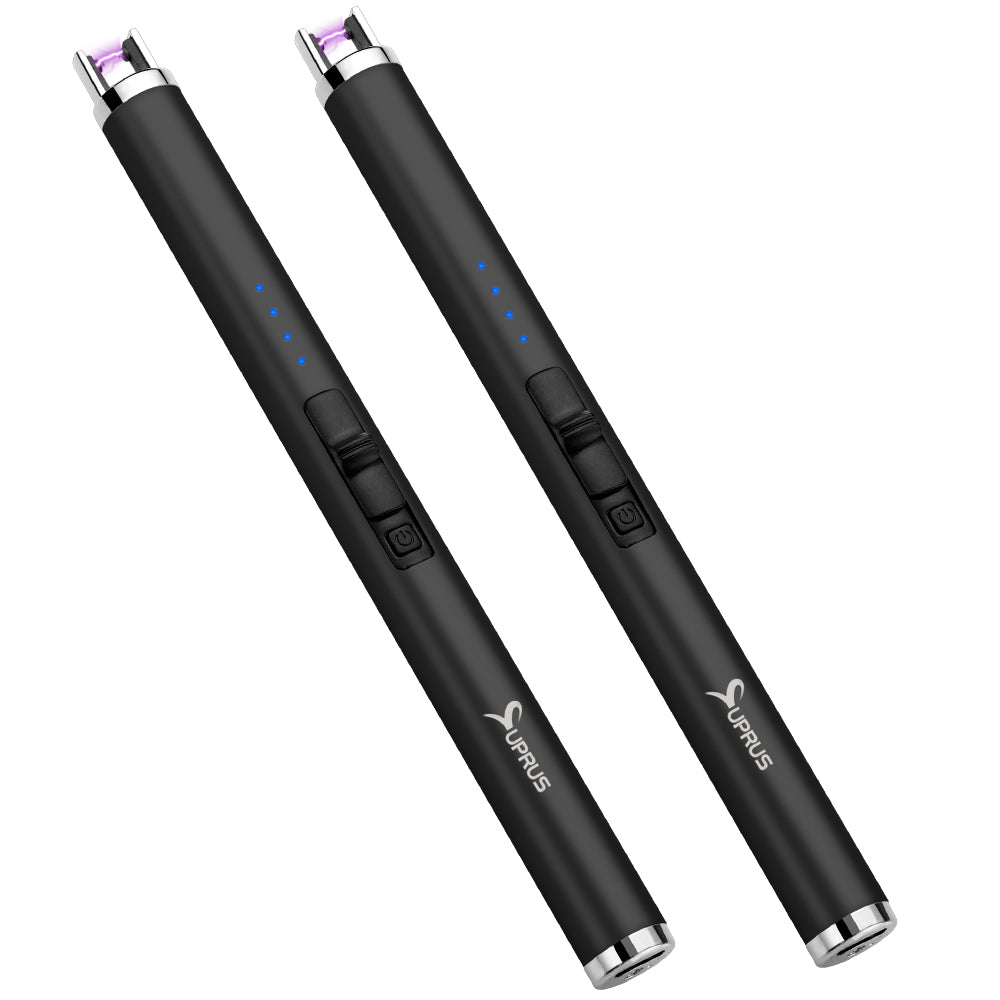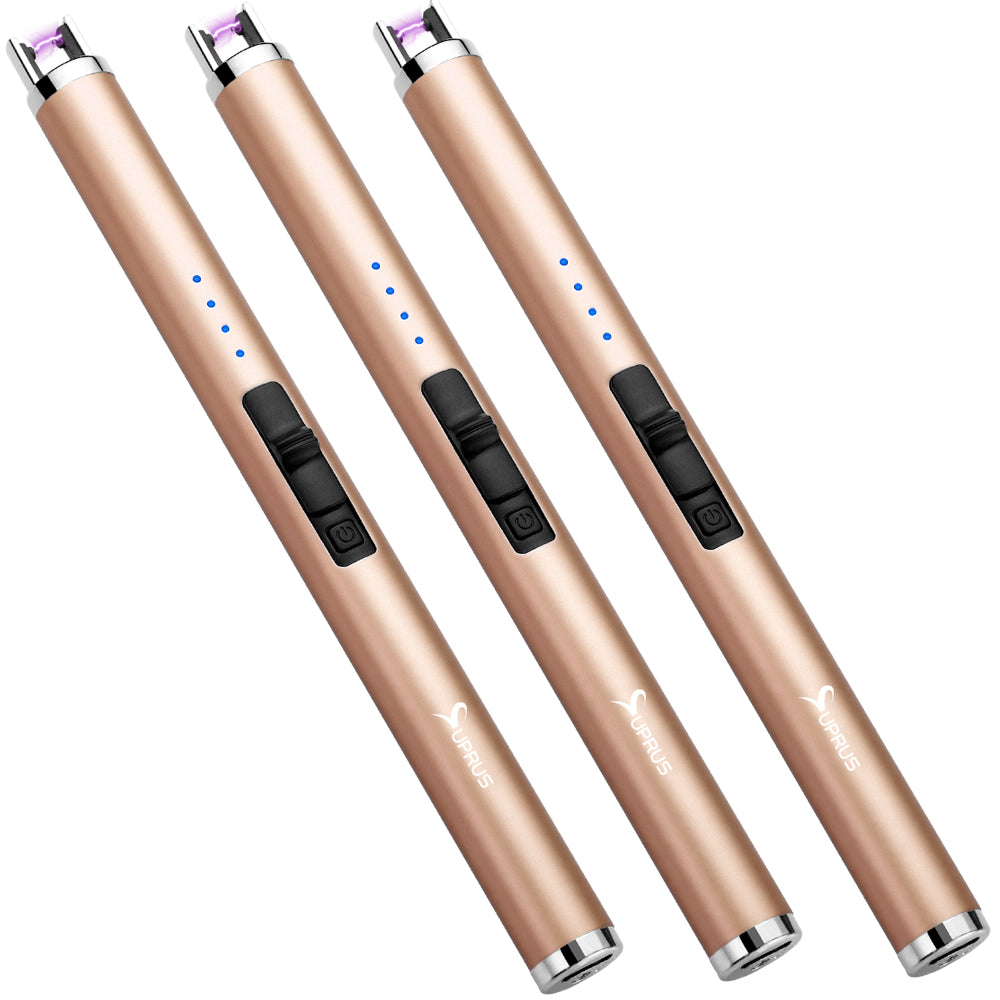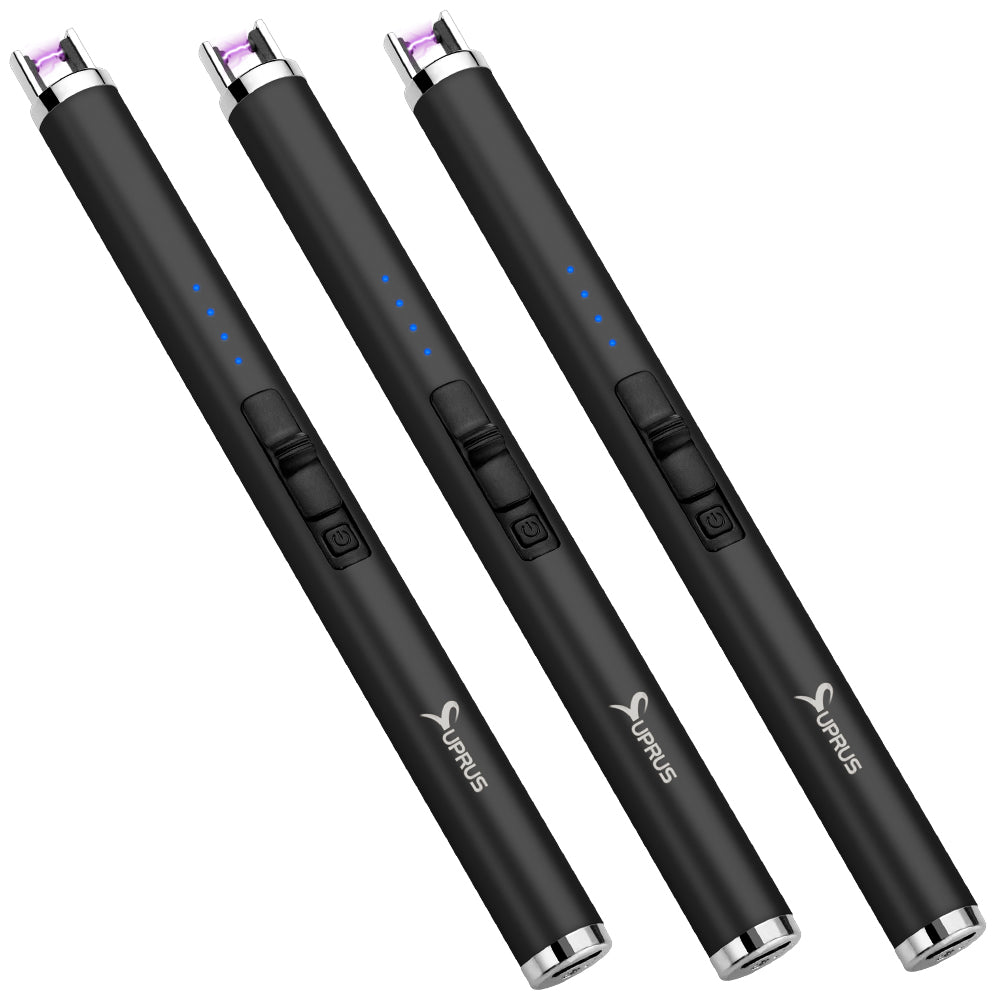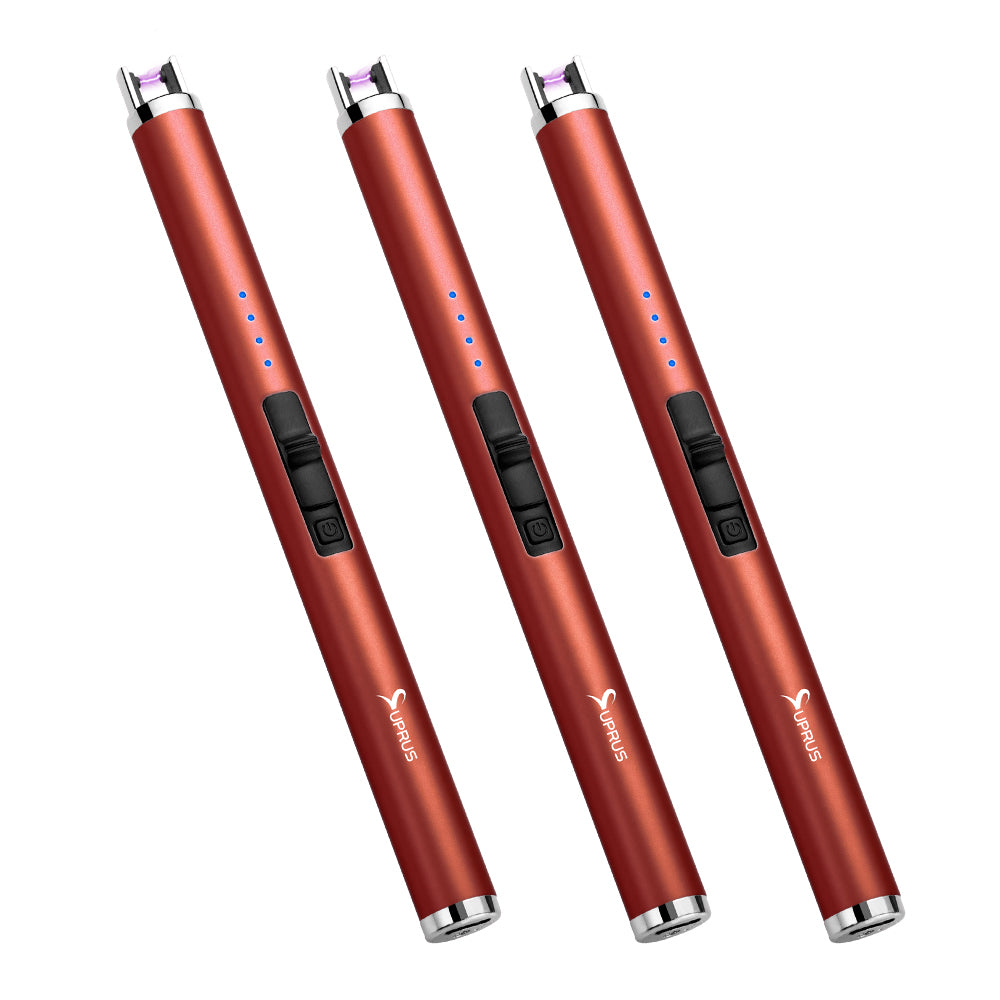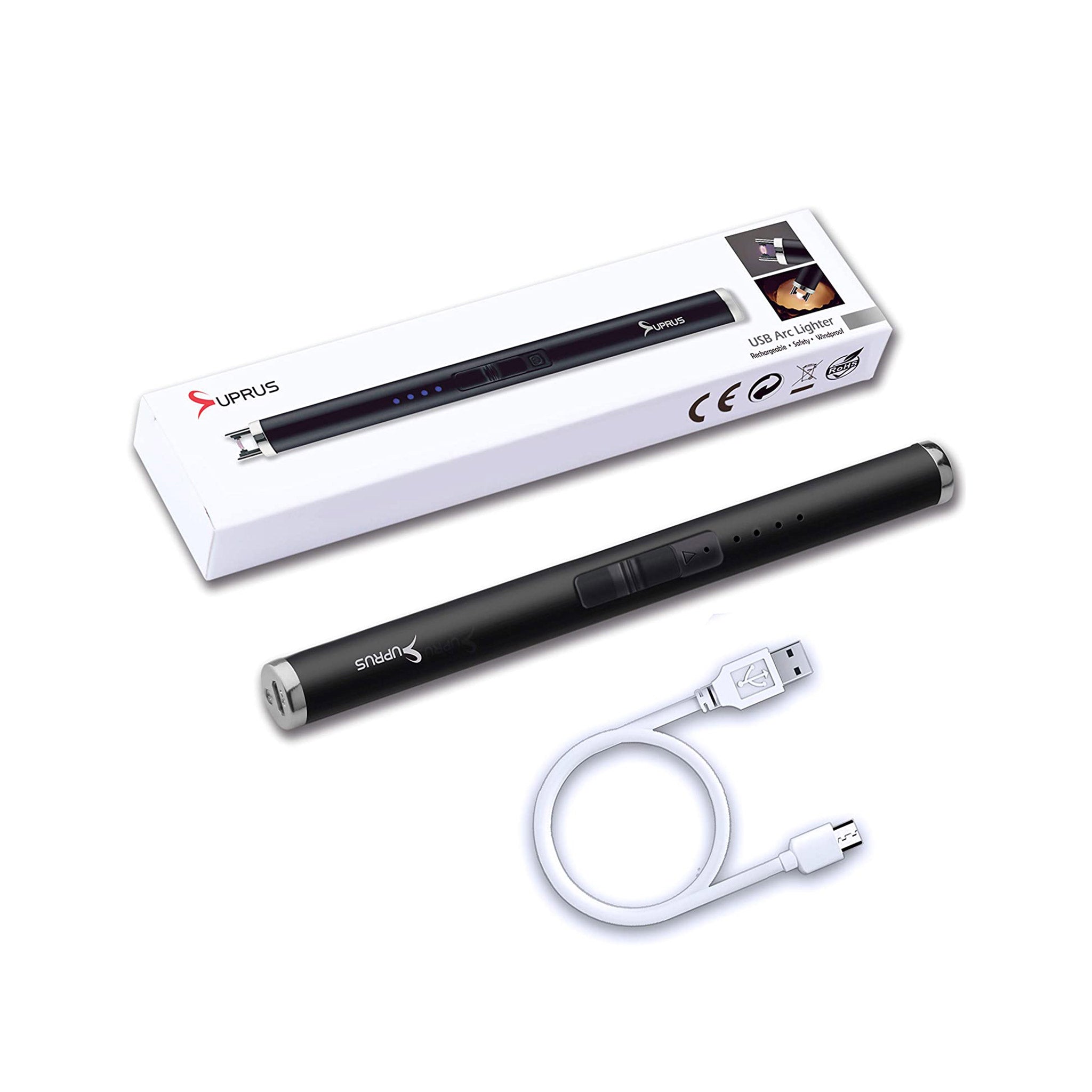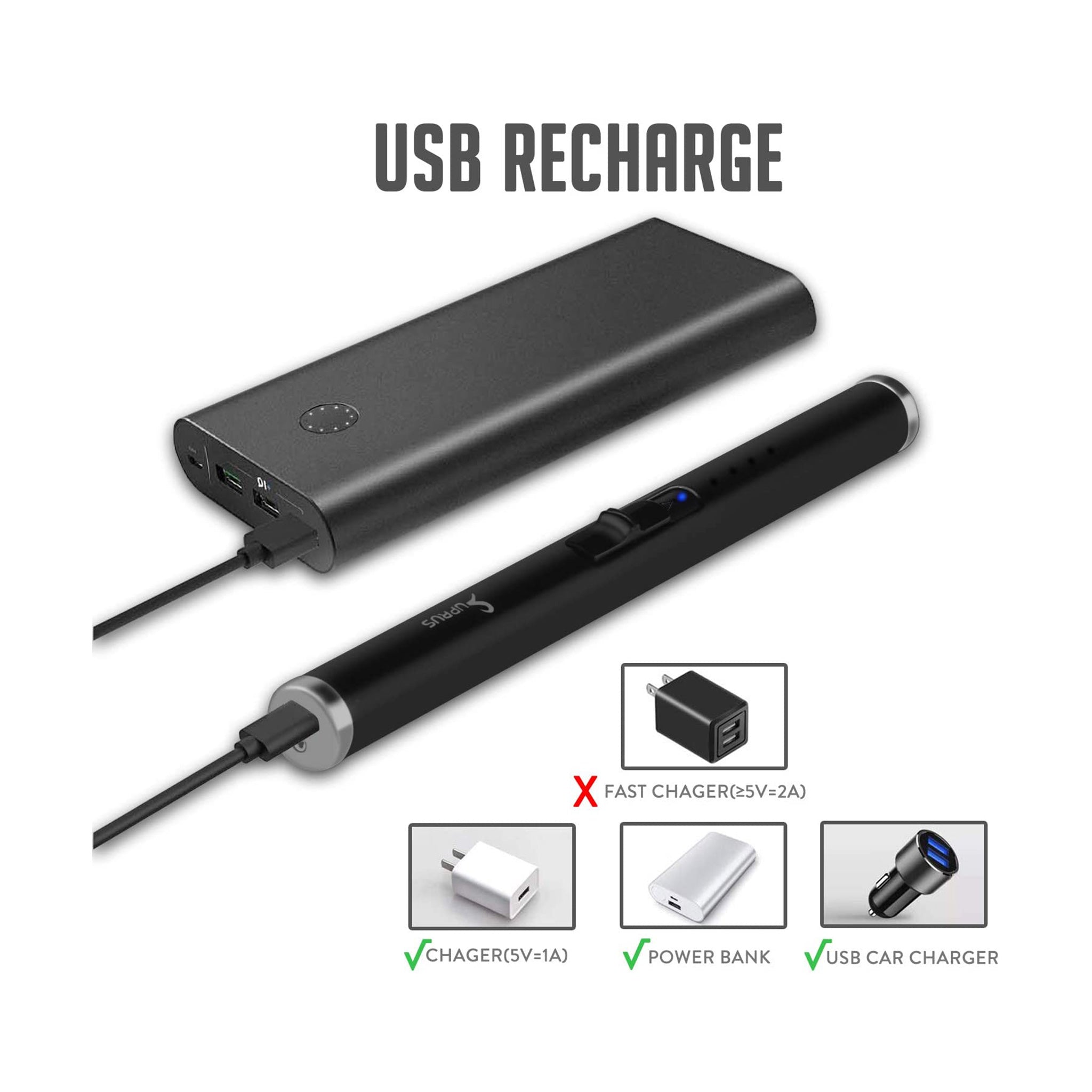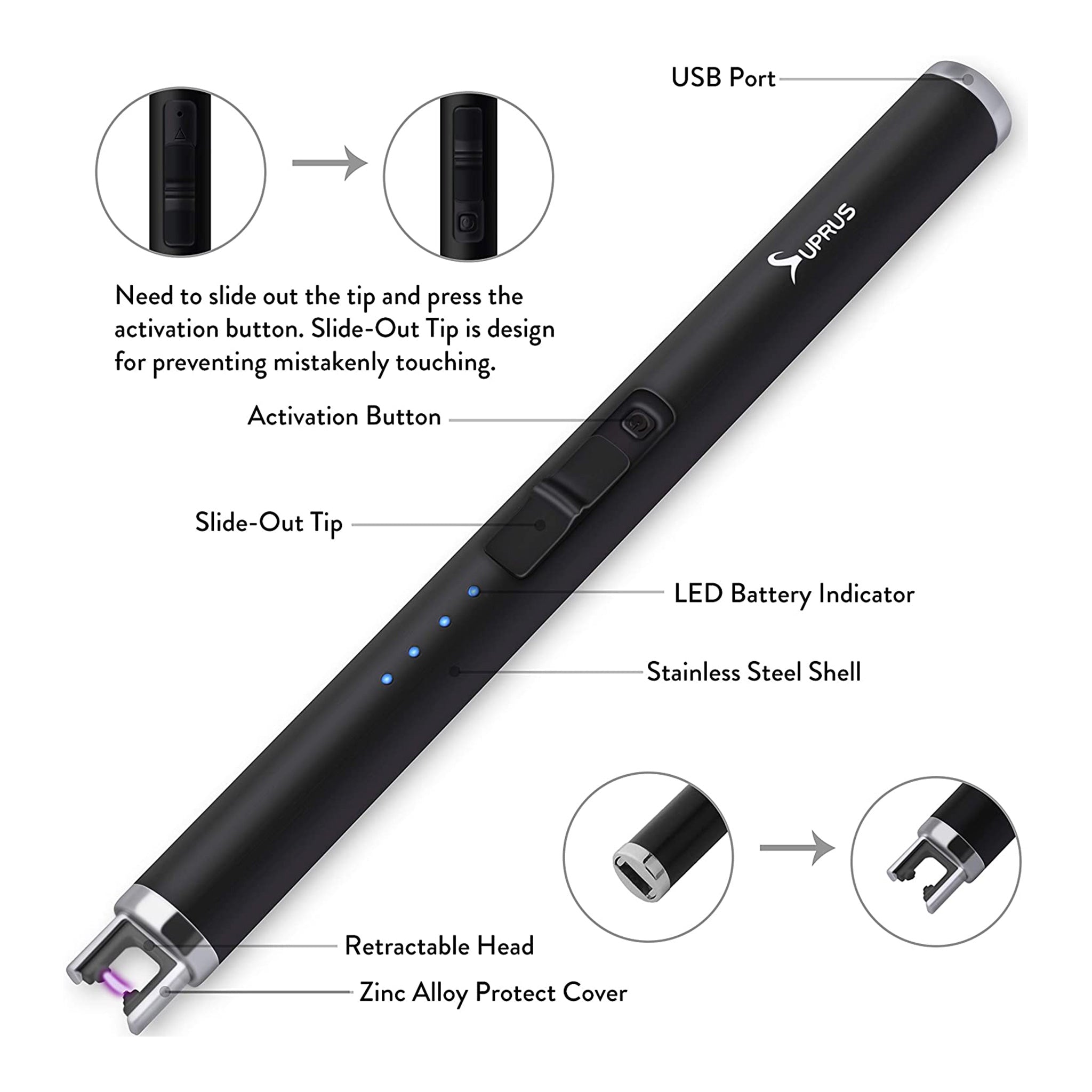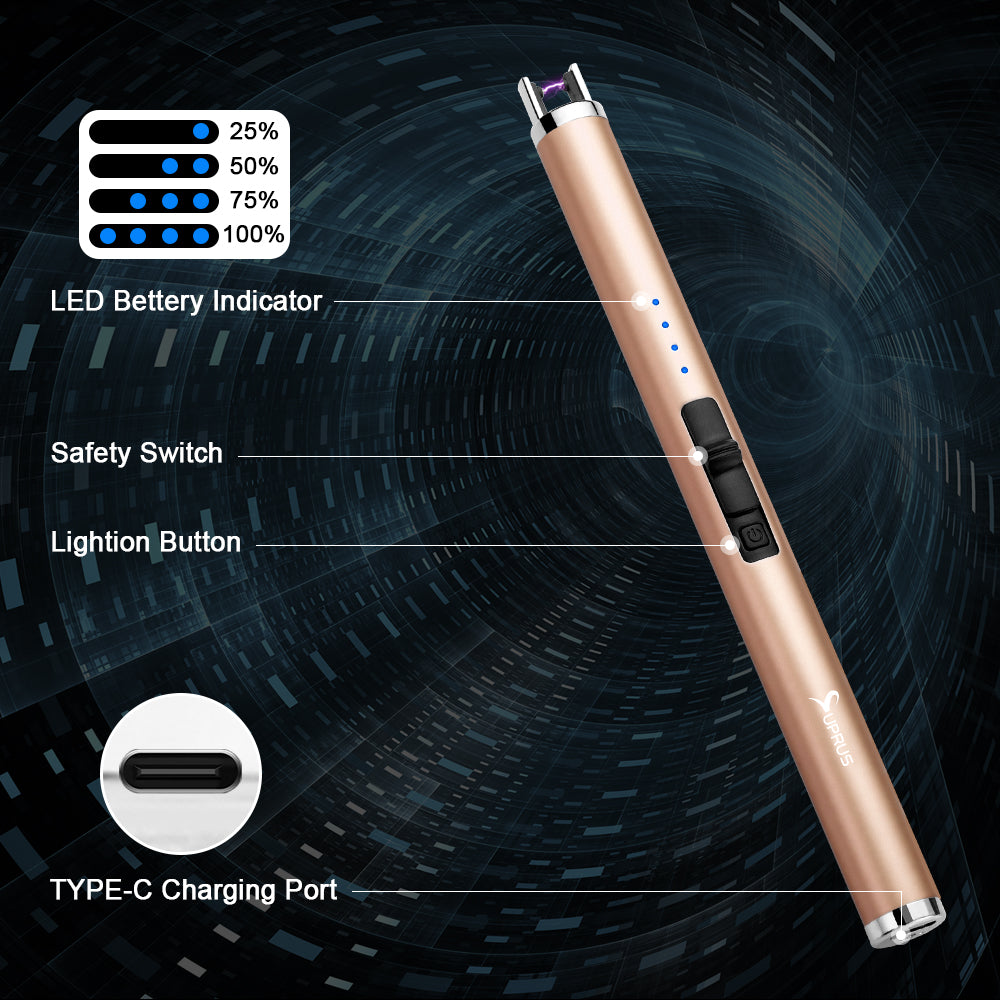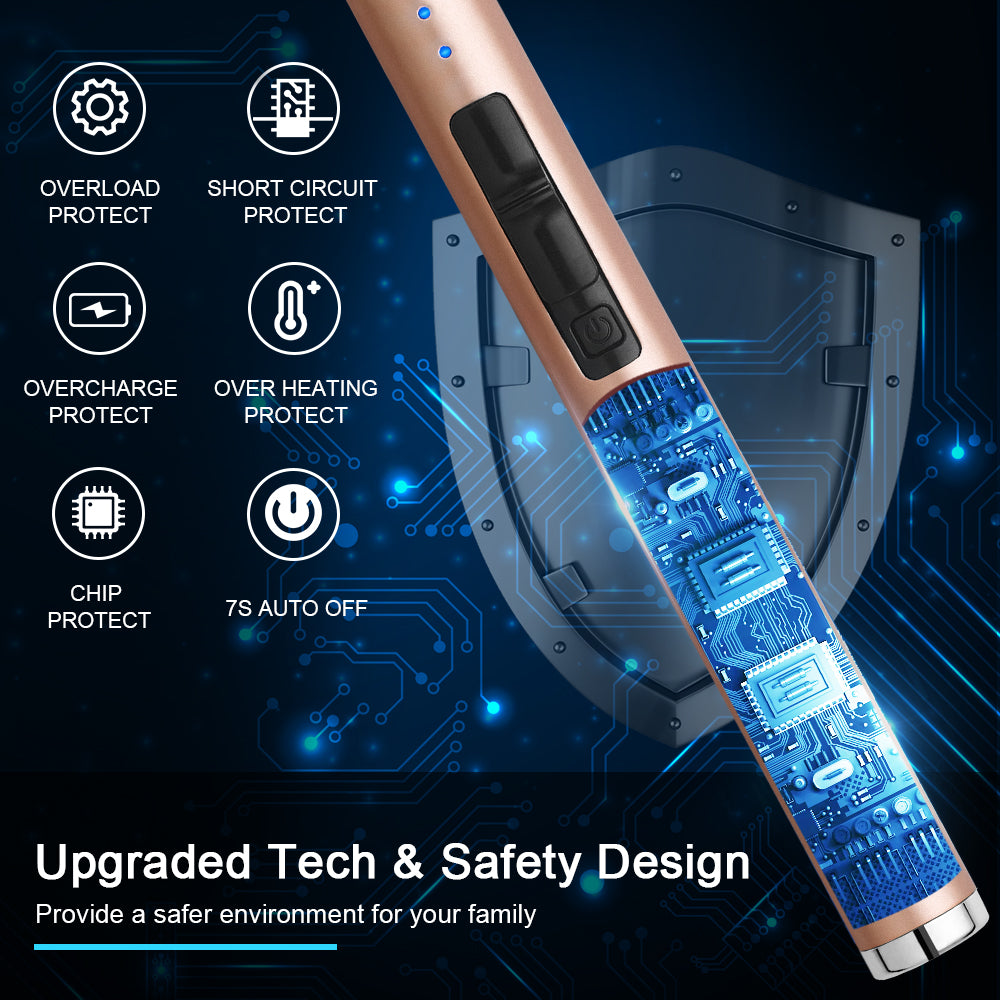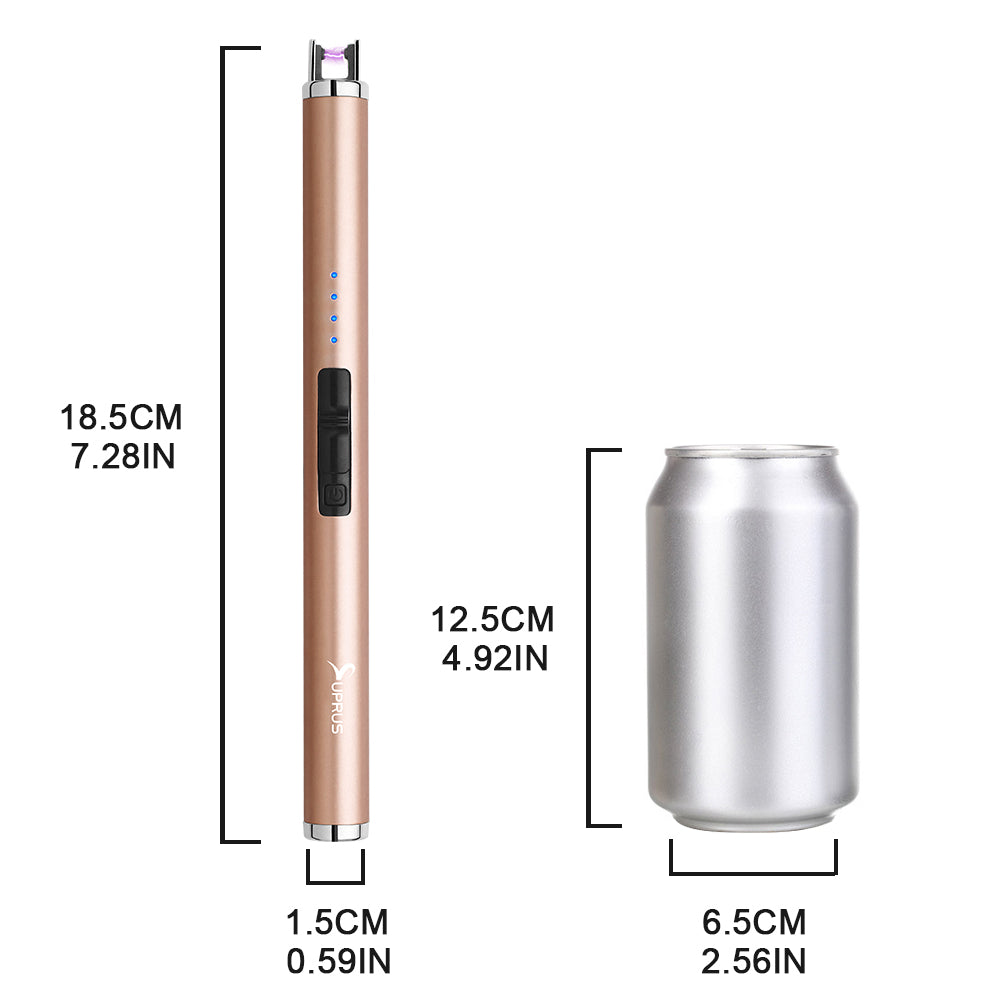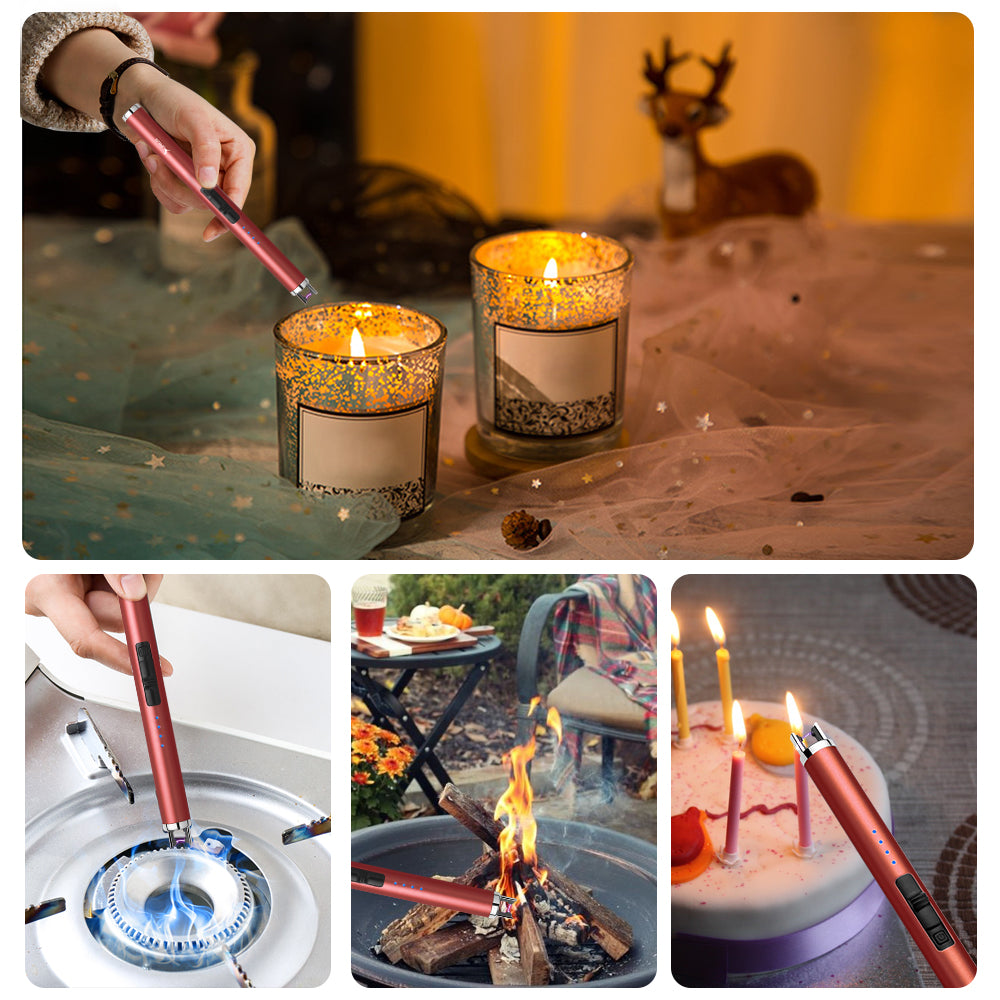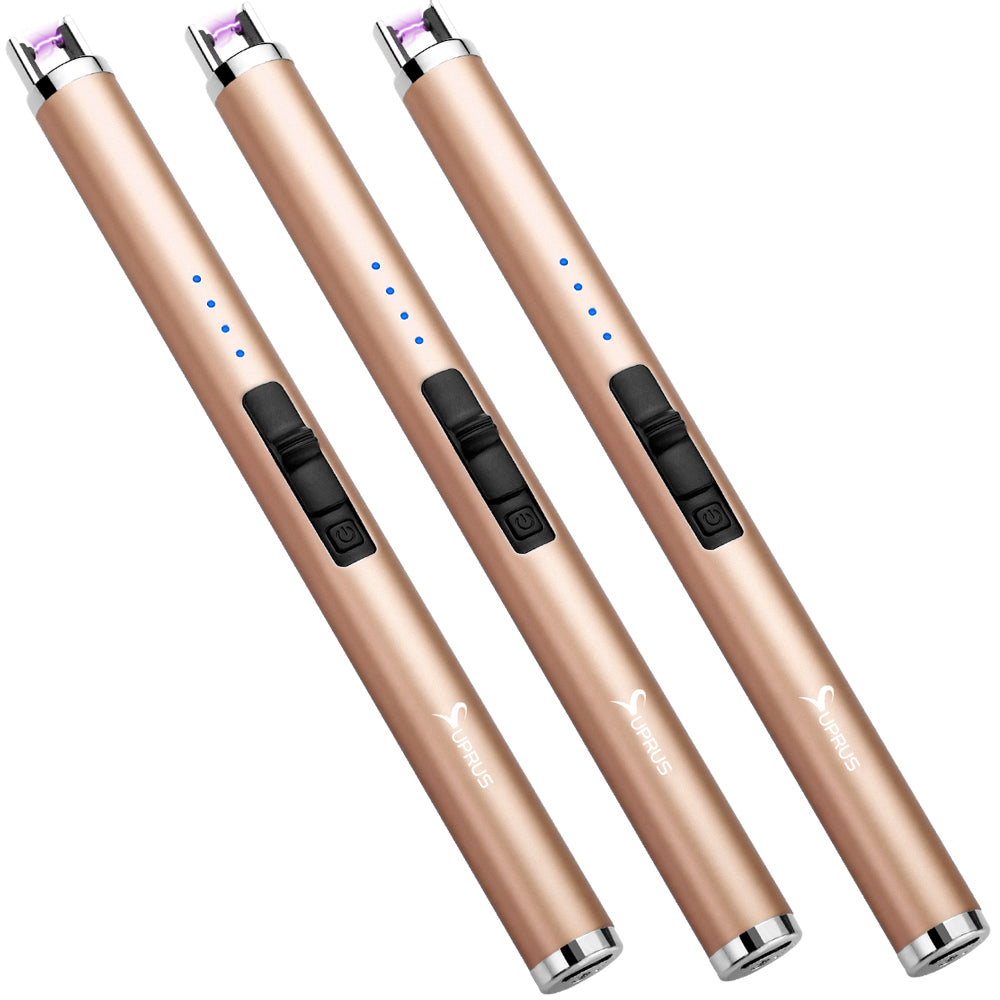 SUPRUS Electric Lighter Rechargeable #HLPW148
【TREBLE SAFETY DESIGN】- Our lighter had passed CE, RoHS, UL test. Adopt the updated version of bonnet, which gives you treble protection, you have to push the safety lock switch first, then press the ignition switch to work. For the safety of consumer, the igniting spark will auto stop beyond 7 seconds per igniting. Restart the switch, the igniting spark will be re-ignited.

【PORTABLE & CONVENIENT 】- Wind & Splash Proof Design prevents the electric pulse produced from being blown out by strong wind, The lightweight design makes the lighter easy to carry and ideal for camping, BBQ ,hiking ,indoor and outdoor activitiess.
【BATTERY NOTIFICATION】- This is the upgraded SUPRUS arc lighter which can display real time battery volume. When 4 LED lights on the barrel turn on, it is full charged.
【BUTANE FREE】- No more harmful butane. SUPRUS uses plasma tech to eliminate the need for this harmful chemical.During the ignition, there will be noise of " zee,zee", which is high-voltage power generation, please use with relax.
【SUITABLE FOR DIFFERENT OCCASIONS】-Arc lighter also can be used as Flameless Candle Lighter, Plasma Bean Lighter, Camping Lighter, BBQ Lighter, Kitchen Lighter, Torch Lighter, Fire Starter, Fireplace Pilot Lighter. Outdoor Utility Lighter Suit for birthday candle, BBQ grills, camping, and many other uses.
【CHILDREN SAFETY BUTTON】-Need to slide out the tip and press the activation button. Slide-Out Tip is design for preventing mistakenly touching.
【USB CHARGING SYSTEM】-Simply connect to any powered USB port, just take 40-60 minutes full charge, lighter can light it can be used more than 500 times(fire cubes).
【RETRACTABLE HEAD PROTECT COVER】-This design is the additional cover to protect retractable head from damage, and make it hard to put hand into the arc operating region.The tips are made of heat resistance ceramics (the ceramics do not burn). You can clean the tip parts of lighter with soft cloth. This design makes it work even in heavy winds. Keep a distance of the fire without the fear of burning without spark and no smell, it is comfortable for daily use.
【USB LIGHTER WITH UPGRADED LED BATTRY DISPLAY SAFETY SWITCH 】-Lighter Candle Arc Lighter USB Lighter with Upgraded LED Battery Display Safety Switch Rechargeable Flameless Plasma Windproof Portable 6.89IN Pocket Size for Candle Cooking BBQs Fireworks
【WHAT WILL YOU GET】-USB Rechargeable Windproof Arc Lighter, Type C cable, Gift Box
SUPRUS Electric Lighter Rechargeable #HLPW148
Better than matches
Love it. received on as a gift and turned around and bought a few for gifts
amazing customer service
i had ordered a lighter off of amazon over a year ago. it recently stopped charging, so i reached out to the company. they're sending me a new one free of charge. amazing customer service! great lighter!:)
Candle lighter
Love thiS lighter. I no longer burn my fingers trying to light the candle. Best purchase I've made lately. My son in law want on.
It really works
I'm glad I purchased it it works and light candles in the Safeway
FAQ
Are there specific recommendations for the use of a SUPRUS lighter?
Yes.Please follow the tips to use lighter.
1. Don't use a fast charger to charge the lighter. These fast chargers have built-in chips to control power, which may be vulnerable to hacking attacks that can cause power surges in the charger, which may damage normal electric devices.
2. Don't forget to close the slide out tip after use. 
3. Try charging the lighter by plugging it into the USB port of a computer.
4. Long-term inactivity will affect battery life.The battery needs to be charged at least once a month to activate the vitality.
5. The tips are made of heat-resistant ceramic (the ceramic does not burn). The lighter may not work properly when there is built up carbon and wax on these tips.  Please clean the tips regularly after use.  
My product isn't working- Can I have it repaired? Is my product covered by a warranty?
In many cases when a product doesn't perform as you would expect, the problem can be resolved at home without any need to return it.Just contact us at service@suprus-beauty.com and include your name, order number and the item(s) you want to cancel. Our staff will then reply within 1-2 business days. 
How long is the warranty on my product?
SUPRUS warranty period is one year from the date you bought the product.
What are the different uses of a Suprus lighter?
The Suprus lighters can be used to light a candle, barbecue, chimney, etc.
Shipping
Fast shipping
Free and fast shipping in U.S.A. Normally it takes 2-5 working days for delivery.
Secure transactions
Transactions are handled with bank-grade security.
Top-Rated Customer Service
Always available via Email, Live Chat.